NEW YORK — When John Taylor was sentenced to four years on probation for robbery, he knew he would be required to check in with his probation officer every other week at the South Bronx Neighborhood Opportunity Network (NeON). Taylor soon got involved in a GED class–he had been taking classes when he was charged, and wanted to make good use of the hours he spent waiting. Before long, he was spending three days a week at the center because he took a job at the NeON as a writing apprentice.
At 26, it wasn't Taylor's first time writing, but he soon found the words were coming more easily to him. And it didn't take long—less than half an hour after his initial request, in fact—for his friends, mother and aunts to start sharing their work with him as well.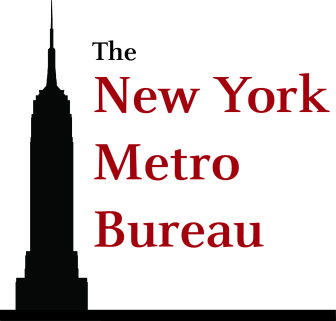 "You can write anything, a poem, a rap song, a story," he said. "I was impressed myself."
On Thursday, September 12, the writing apprentices like Taylor, staff and contributors gathered at the South Bronx NeON to celebrate the release of "Free Verse," the poetry journal they produced. The journal comes from a program that has been running since April, in which people waiting in the probation office can participate in writing and presenting their poetry, to transform dead time into something productive and positive.
Lonni Tanner, who is both Chief Change Officer for NYC Department of Design and Construction and Executive Director of See ChangeNYC, was instrumental in developing the project and served as managing editor of the journal. She informally dubbed the program "Not School," as a nod to the importance she places on giving people a way to learn that works for them.
"I wanted to create something with heart to it that was about true learning," she said.
Dave Johnson, the editor of "Free Verse" and the Poet-In-Residence at the South Bronx NeOn, has a background as a poet and playwright, and has taught in grade schools and high schools and lectured at Yale University. Despite his experience teaching, it took effort to get participants to warm to the idea, he said. His position involved not only helping to teach participants, but also trying to bring new poets on board.
"It's going around cold calling," he said. "It's poetry sales; you're trying to get them to buy what you have."
While this program worked in conjunction with a GED class, it was not just an opportunity to create and learn, but also to use poetry as an avenue to make good choices. The eight writing apprentices were responsible for soliciting poetry and stories from their communities, as well as writing. It was a paid position, and during the course of the program there the apprentices' attendance rate was 100 percent.
"This is a lot more than poetry; this is an opportunity to be welcomed back into society," said Johnson.
Vincent Schiraldi, commissioner for the New York City Department of Probation, said that as a father he saw the importance of letting his children try different activities to find out what they were good at and enjoyed doing. In his position, he said, he sees many people on parole who have never had the opportunity to sample different activities. He said some participants don't enjoy writing, but have found other ways to be involved, such as setting up sounds systems for the spoken word portion of the events.
Schiraldi is also excited that it's not just those on probation getting involved—even probation officers have started to write and present their own poems.
"That's a vulnerability that would've been unthinkable a few years ago," he said.
Although Taylor is supposed to remain on probation for four years, he hopes that the term will be shortened if he stays on the right track. Although he pled guilty to a third-degree robbery, a charge he received for his alleged theft of an iPad, he maintains that he never actually committed the crime. He pled guilty because he was tired of the disruption in his life, of missing classes–which he attended with the goal of becoming a court officer, and rearranging his schedule.
The plea meant he could stop going to court dates and get paperwork to show potential employers that while he had been charged, he was cleared for employment. Although the experience of going through the court system has meant some of his goals of working in law may now be unattainable, he said he has taken advantage of the opportunity and hopes that it will help others in his situation, too.
"I want to see the whole community involved in it," he said. "It's a good thing, keeping kids out of trouble."