NEW YORK — Elijah Henriques, 15, always loved to draw. He began drawing on paper, then on his schoolbooks and eventually he started making graffiti. After a neighbor witnessed Henriques tagging mailboxes in his Ozone Park, Queens, neighborhood, police officers pulled him off a city bus and arrested him and his friends.
Two months later on a Saturday afternoon, his graffiti was exhibited at the Nuyorican Poet's Café in the East Village in Manhattan. His artwork was part of a show organized by the "Paint Straight" program, a nonprofit that's designed to encourage teenagers who have been arrested for vandalism to express their art in safe and legal ways.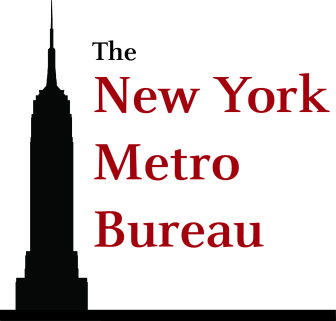 "It helps you understand that doing it illegally is a waste of time. That you can do it on canvas, too," Henriques said at the "All-City Paint Straight Program Finale."
Eighteen other young artists who had been arrested for graffiti displayed their work alongside Henriques. Colorful 18-by-21 canvases rested on easels throughout the small dark bar. A DJ spun hip-hop records as probation officers and family and friends of the artists streamed in to view and bid on the art in a silent auction.
Ralph Perez, 49, founded "Paint Straight" five years ago in collaboration with the New York City Department of Probation for teens who have been arrested for nonviolent crimes. The program lasts eight weeks and is often a requirement of probation or offered as an alternative to community service.
"Paint Straight" participants meet once a week at their respective borough's family court facilities and receive art education and mentorship. Perez said that, out of the 111 kids whom he has helped in the last year, only four have been re-arrested for vandalism.
As Perez addressed the small crowd at Saturday's graffiti show, he exuded fatherly pride toward his teenage "graduates."
"These kids, I love them," Perez said, apologizing as his voice cracked and he backed away from the microphone to regain composure.
Graduates of the program made their way across the stage where Perez gave each student a hug and a certificate.
"I just want you to know that I love you, man," Perez told one graduate as he embraced him.
Perez, who goes by the name "Tatu," is a graffiti artist of old-school fame. When he was a teenager, he founded the XMen crew, whose tags and murals filled the subway system during New York City's graffiti heyday in the 1970s.
"Back then, New York was crumbling," Perez said. "New York is like Disney Land now."
He said that as the city's landscape has changed and property values have raised, so too have the severity of punishments for so-called lifestyle crimes such as vandalism. Graffiti is punishable by fines, community service and incarceration for multiple offenders.
Perez was incarcerated after graffiti led to drugs and other crimes. He said that he began the program to prevent a similar fate for teens who are at an age when intervention is valuable.
"Graffiti was my gateway crime. It started with writing my name on the wall," Perez said to the crowd at Nuyorican Poets Café.
In some ways, "Paint Straight" is no different than a formal painting class. Perez teaches the participants in the program the basics of how to use a brush and about style and form. Perez says that most of the teens he works with attend schools with little or no art education.
"I get a lot of calls from schools saying we don't really have an art program in here," Perez said.
Kenneth Choi, 15, another participant in the graffiti exhibit, said that his art improved over the course of the program.
He created a piece of art for the show that depicted the ocean with a baby blue sky and the word "Supreme" painted in bright red.
"I learned a lot about colors and contrast. Tatu taught us right," Choi said. He sold his piece for $25 during the silent auction.
By the end of the show, 80 percent of the "Paint Straight" artwork was sold. The rest will be displayed in a Brooklyn Family Court room.
Michael Ognibene, the Department of Probation's chief of staff, won nine of the silent auction items, the most of anyone in attendance.
"I saw [Keith] Haring's stuff on the subway and Basquiat and I think I just bought nine more Harings," Ognibene said of the canvases that were stacked in his hands.