NEW YORK — Tears of joy streamed down her face as she covered her mouth with her hands, staring in amazement at the portrait of the proud mother smiling over the shoulder of a young girl with the dancing brown eyes.
"Gorgeous, gorgeous, gorgeous," Colleen Morgridge,  said to her daughter, in near disbelief. "That's us!"
Morgridge, 47, who is homeless, was getting her first look at a large portrait of her and her daughter, on display as part of Art Start's Family Portrait Exhibit.
First launched in 2013 by Art Start, the Family Portrait Project is a collaboration between homeless families and professional photographers to document homelessness with family portraits and oral histories. The exhibit kicked off its latest installment with a reception Wednesday evening at the South Street Seaport and will be on display through the end of the year.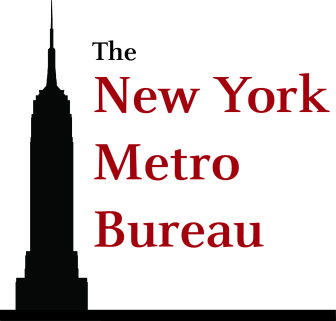 The project, which this time features 16 families, grew out of Art Start's workshops for children, now held in eight homeless shelters across New York City. Founded in 1991, Art Start programming ranges from visual art to dance to gardening.
Morgridge could barely be heard about the excited crowd that had gathered to admire her portrait, which was among several bathed in soft lighting that filled the room. Photographers and mothers, who hadn't seen each other since the day of the shoot, chatted and shared stories of their current struggles and victories as children ran eagerly from portrait to portrait, shouting excitedly when they came to their family's piece. An unmistakably buttery smell wafted through the air, drawing both kids and adults to one corner of the room where chefs offered freshly made grilled cheese sandwiches.
Christina McKnight, who has been homeless since January, got involved with Art Start via their gardening program. Her three boys like digging in the dirt, so it was a perfect match, she said. Then she jumped at the chance to have their family portrait taken.
And she's glad she did.
"Taking those photos, getting to express ourselves and to share like this in an art gallery, it's the best," McKnight said.
Photographer Ken Pao, one of several professional photographers who participated in the project, said he had a blast.
"Kids are naturally spontaneous and fun to work with," he said.
Both McKnight and Pao said they are especially proud of their finished product, which includes a portrait that captures the entire family seemingly suspended in midair.
[Related: Catching Emotional and Developmental Problems in Homeless Children]
Hannah Immerman, Art Start's co-executive director, said fostering pride and increasing self-confidence are goals that run through all their programs. The organization runs a similar program for court-involved youth and operates at five of the city's alternative-to-incarceration centers.
Another top goal, she added, is changing the public's cold and inaccurate perception of homelessness. "This can happen to anyone," she said. "The families we work with are just like us."
For instance, one-quarter of adults in homeless families work, but do not make enough to cover the expenses of rent. And the homeless, particularly families with children, experts say, are susceptible to becoming victims of violence, human trafficking and other crimes. Children who are able to attend school end up struggling because the trauma associated with homelessness can disrupt the child's still-developing brain.
Across New York City, the homeless rate is rising. According to the Institute for Children, Poverty and Homelessness nearly 84,000 of the system's 1.1 million students were homeless during the 2013–14 school year, a 25 percent increase since 2010-11. The institute also says the rate of homelessness in the city is the highest since the Great Depression.
But tonight, McKnight has only one immediate concern — she said she can't even begin to express how grateful she is for what Art Start has done for her and her boys.
"All I can say is I thank them a thousand times.," she said. "They have given me something I truly cherish."
More related articles:
Reporter's Notebook: Homeless Youth Risks, Pope Speaks Out
A Few Simple Questions Can End Homelessness and Sex Trafficking Now