NEW YORK — A self-portrait by artist Brittany Knapp appears to call out in agony, begging onlookers to help. The life-sized image of a nearly-naked young woman is tethered at the wrist, a wooden three-dimensional cutout, hauntingly realistic against a darker plywood background.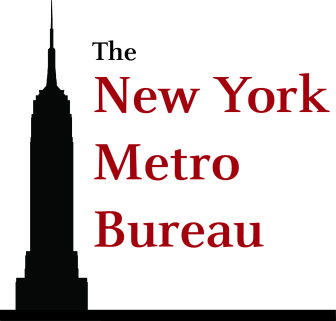 "They strapped me down with the leather restraints like you see in the movies," said Knapp, now 27.  She was 16, incarcerated and suffering from mental illness when she was given an antipsychotic drug that caused hallucinations.
"Nothing was real. A male staffer who'd been really kind to me and was mentoring me was taking my clothes off," she said.
Knapp's striking work is part of an exhibition entitled "Visions of Confinement: A Lens on Women in the United States Prison System," at the Hunter East Harlem Gallery in New York City. The gallery will host several symposia designed to foster discussion on female incarceration. The topics will include the importance of staying connected with family and reuniting with children to the reentry challenges and other struggles unique to formerly incarcerated women.
The exhibition was organized by Isaac Scott of The Confined Arts, gallery curator Arden Sherman and curatorial fellow Alana Hernandez.
"For this exhibit, I really wanted it to be people taking up art as a therapy or from a personal experience," Sherman said. The gallery focuses on socially-minded projects.
Exhibitor Sara Bennett is a former defense attorney whose first photos were of a woman she'd been working with pro bono who was serving a sentence of 74 years to life. Bennett published the photos in a book titled, "Spirit on the Inside."
When she showed her friends the book, she said, they were always surprised.
[Related: Family Portrait Project for Homeless Families Uses Art to Change Lives, Perceptions]
"People I know, they'd look at it and say 'Oh, she was in prison?'" Bennett said. "Because I think people have this idea of people who are incarcerated as 'other' rather than somebody who looks like us — our mothers, our sisters, our daughters."
Bennett wants those who view her photography to come away with one message: "People in prison look like us," she said.
One photo in Bennett's exhibit shows a woman sitting in a cramped bedroom, while another shows a woman sitting in the back of an SUV along with all her possessions. Both depict the struggle to find affordable housing, one of the biggest challenges older women face after long periods of incarceration. All of Bennett's photos show recently released women going through the reentry process.
"I sort of came to it through an advocacy role, then I picked up the camera as a tool," she said. Only recently has Bennett considered herself an artist.
Exhibit organizer Isaac Scott, who runs art programs for juvenile offenders, said it's those who don't consider themselves artists often do the best work.
"When I'm teaching and a kid says, 'but I'm not an artist,' I don't even say anything anymore, I can't wait to see what they can do," Scott said.
Knapp was just 14 when her parents caught her smoking pot and sneaking out of the house. She says her parents didn't know what to do with her, so they called a social worker. Small things led to more serious offenses and she spent the next four years in and out of the juvenile justice system.
Released when she turned 18, she hasn't returned. She said she earned an undergraduate degree in art and went on to earn a Master's in Art Therapy from New York University.
Knapp knows she's lucky to have gotten out of the system.
Now an activist, artist and art therapist, her clients include children coming out of the juvenile justice and foster care systems.
She hopes her self-portrait, titled "She Was Low," and other pieces at the exhibit will spark conversations about juvenile confinement. She feels compelled to work with young people and to share experiences through her art, she said.
"It really wasn't an option. It helps give me a heart for the people I serve," she said.
More related articles:
At Carnegie Hall, Brooklyn Teens Get to Work with Pros on Their Songs