NEW YORK — The surveillance video is stark and violent.
An inmate in a red jumpsuit, hands cuffed behind his back, is led from his cell by a corrections officer. After several steps, the corrections officer grabs the inmate and swings him towards a metal railing.
There's a struggle and the two disappear out of the frame only to reappear seconds later with the corrections officer forcing the inmate down onto the ground. The inmate continues to struggle, now pinned down by the corrections officer while two other corrections officers rush in to help him.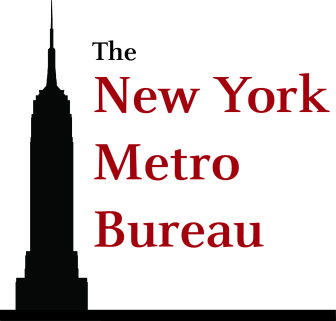 The video ends. The inmate is Kalief Browder.
"I was … watching that. I was in 48 cell," said Cadeem Gibbs about the video. "He was in 46."
Former inmate Cadeem Gibbs, 26, spoke on a panel Wednesday night about his experience being incarcerated in New York City's notorious Rikers Island Prison. The panel followed a preview screening of "RIKERS," an upcoming Bill Moyers documentary about the experiences of the Rikers inmates, for a crowd of mostly journalism students at the City University of New York Graduate School of Journalism in Manhattan.
The film is scheduled to have its film festival premiere on Nov. 12 at DOC NYC and its television premiere on Nov. 15.
The incident caught on tape in the surveillance video was the assault of Kalief Browder by a corrections officer at Rikers Island in September 2012. Browder was incarcerated there for three years before being released without ever being tried on the charge of stealing a backpack. After trying to readapt to life outside a cell, he committed suicide. The video, released in 2015, is one of several surveillance videos documenting violence in the jail that were included in the film.
Gibbs, now a youth program coordinator at Families United for Racial and Economic Equality and staunch activist for change within the criminal justice system, said he felt nothing as he watched the assault from his cell. He was in the Otis Bantum Correctional Center, the complex's central punitive segregation unit. Or as he called it, the "Oh Boy."
"I mean it was normal," he said about the violence. "I became desensitized."
Gibbs and Kathy Morse, 57, are two of about a dozen former inmates who told their personal experiences with the gang violence, rape and general horrors of the stories to the producers of "RIKERS."
Gibbs witnessed Browder's assault during his third and final stint in Rikers, he said. When he was 18 he was incarcerated there for two years, one of which was spent in solitary in the Otis Bantum Correctional Center. He spent eight months in Rikers when he was 16 and another six when he was 17, he said. All three arrests were drug related, he said.
Adolescents make up approximately 7 percent of the New York City Department of Corrections' daily population, according to its website. Those sent to Rikers are kept in the Robert N. Davoren Complex, where inmates ages 16 and 17 are isolated from the general population. The city has said it hopes to move all adolescent offenders from Rikers and house them in the Bronx instead in the coming years.
In the film, Gibbs described his first time going to Rikers and the reactions of the other inmates as he entered the jail. To him the looks on their faces said, "Oh, we got a victim. Fresh meat," he said.
Through crisp and emotionally raw interview footage of Gibbs and the other former inmates, interwoven with the occasional surveillance footage, "RIKERS" vividly creates a bleak and violent image of the culture of violence inside the jail.
Event organizer Lisa Armstrong, visiting associate professor at the CUNY Graduate School of Journalism, said she was struck by the film.
"For some reason it impacted me in a way that I didn't expect it to, given that I already knew how bad Rikers was, or is," she said.
Ismael Nazario, a former inmate featured in the film, described being jumped by another inmate. He said that when a corrections officer broke up the fight, she said to him, "You going to hold it down?" a phrase he said he would come to realize meant, "Are you going to stay quiet?"
Candie Hailey-Means, one of only two women in the film, described screaming out for help while being sexually assaulted by corrections officers in her cell. Morse, the other woman, described being attacked and raped in the showers. Tears streamed down her face as she recalled the incident on camera.
Other experiences described in the film: feeling like a "roasted pig" while being hogtied and carried by corrections officers; watching an inmate throw scalding hot water onto another's face, burning it so badly skin comes off in his hands; and playing with your own feces while in solitary because you don't know what else to do.
Since his release, Gibbs said he's been devoting his time to sharing his story with youth from his community and others like his through outreach, advocacy and public speaking engagements. He hopes to turn a two-part urban murder mystery series he wrote during his year in solitary into a screenplay and animated series. He hopes he can be the role model for others that he never had growing up in Harlem.
"The people that I looked up to growing up were drug dealers," he said "That was my idol. My model of success. My role model."