Use arrows and buttons to browse photo gallery
NEW YORK — It has been more than 20 years since the day Nicholas Heyward Jr. was shot by a police officer while he was playing cops and robbers as a 13-year-old with his friends in the stairwell of the Gowanus Houses in Brooklyn.
At the time, police officer Wenjian Liu was, like Nicholas Jr. just a child himself at 12, and police officer Rafael Ramos, just on the brink of adulthood, would not join the police department for another 18 years.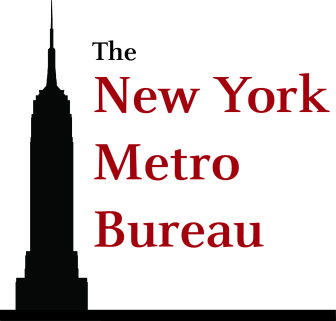 Saturday afternoon, the 20 years separating the dead boy and the two officers collapsed. Heyward Jr.'s father recounted the shooting of his son, who was holding a orange-striped pop gun with a cork, and the devastating aftermath. At the same time, police helicopters swooped overhead, flying northeast where officers Liu and Ramos lay dying.
Heyward stood in front of a packed crowd at the Church of St. Luke and St. Matthew in Brooklyn for a  "Breaking Broken-Windows" town hall event for advocates to end police brutality. A massive black banner hanging in front of the altar read: "When We Breathe We Breathe Together." That was an allusion to the final words of Eric Garner, who died after a widely publicized confrontation with police while he was being arrested for selling individual cigarettes.
Heyward began to choke up and cry as he remembered his son's death and Nicholas Jr.'s mother's frantic efforts to get to him in a housing project stairwell as he lay bleeding to death from a gunshot to his  abdomen.
"This is very, very tough," he said. "I've been in pain for the past 20 years."
The police officer who shot him was not charged in the killing.
Just an hour before Heyward took the stage to recount his two-decade-old tragedy, a fresh one was unfolding less than two miles away in the heart of Bedford-Stuyvesant at the Tompkins Houses. Ismaaiyl Brinsley, a 28-year-old drifter with a laundry list of prior arrests and a history of mental illness, took a bus from Baltimore and came to Brooklyn to kill police officers. During his trip Brinsley posted a promise on Instagram that he was going to kill two New York Police Department officers in retaliation for the deaths of Michael Brown in Ferguson, Mo., and Eric Garner in Staten Island.
He ambushed police officers Ramos, 40, and Liu, 32, while they sat in their patrol car Saturday afternoon. They never had the chance to defend themselves. Brinsley then fled onto the nearby G train and turned the gun on himself.
In the weeks leading up to the shooting of the two officers, New York has been in the grip of passionate protests calling for sweeping reforms to police policy. Many see the current policies as leading to the unnecessary deaths of black and Latino men and boys.
Those protests have been sparked most recently by the lack of an indictment in Garner's choking death. But the tensions and resentments have been building for years as police killings of unarmed New Yorkers continue. To drive home the point, organizers in the church handed out a sheet of pictures of unarmed people slain by the police. They were all black and Latino.
Almost 90 percent of the 186 people killed by the NYPD since the 1999 shooting death of Amadou Diallo, an unarmed livery cab driver slain while reaching for his wallet, have been black or Latino. In those killings, only one officer was convicted.
Police officers, especially those working the streets of poorer, minority neighborhoods, have said their working conditions have been abysmal. Before the shooting, one officer from the 73rd Precinct said he had never seen the relationship between the NYPD and neighborhoods with majority black or Latino communities this strained.
"It's terrible out there," he said. "It's a nightmare. They hate us right now."
The protests and the political response to them has led to a rift between City Hall and the NYPD.
Now, after the shooting, the tensions have only mounted. Patrolmen's Benevolent Association President Pat Lynch has said Mayor Bill de Blasio has as much blood on his hands as the shooter. When de Blasio left a press conference related to the killing of Liu and Ramos, police turned their backs on him as he walked past.
Protesters feel they voted in a progressive in de Blasio and for their efforts were given Police Commissioner William J. Bratton, widely credited for developing the Broken Windows method of policing that they are now fighting to dismantle.
Across the street from housing projects, the NYPD came to pay respect to its own. Everyone from fellow officers to department brass, including Bratton, came to recognize the fallen officers.
Victoria Phillips helped organize the Broken Windows town hall. She said she has had to teach her 11-year-old son, who got snacks for guests and ran errands during the meeting, not to run from police. He once told her he can run fast. She told him if he did that he could get shot in the back.
She pointed to him to explain why she has dedicated her life to ending police brutality.
"I think there's a civil war going on right now," she said.
A few weeks ago, while Phillips was driving home from a protest, she was tailed by police investigators, she said. She posted a video describing it in real time. She records everything now, she said, because she doesn't know what could happen to her.
"The people who do the things that I do are either dead or in prison or on the run," she said.
She has seen police cars parked in front of her building. She has warned her son not to open the door if someone knocks. She recently let him walk to school with his younger cousins for the first time and he was stopped by police officers.
"They asked him what his gang affiliation is," Phillips said.
She has stopped letting him walk to school by himself.
Phillips sees herself and her fellow advocates for police abuse reform as the modern incarnation of the civil rights movement. She knows that to many New Yorkers consumed by the monotonous, daily demands of work and family she and her fellow protesters may seem like a nuisance.
"I would ask them one question though before they say, 'Oh, look at these fools lying down in the street,'" Phillips said. "I want you to think about what must we have gone through that we would risk getting run over by a car to have you hear me. I need you to hear me."
Dennis Flores, who runs a cop watch program, premiered a short video at the town hall meeting. It showed Ray Tillery, a young black man, getting swarmed by several cops for tossing a cigarette onto a Brooklyn street. Flores said he is concerned that the brutal killing of Liu and Ramos is going to give the NYPD a pretext to crush the police reform movement.
"This is a historical moment," he said. "We've never seen this kind of movement organize around police violence around the city, and around the country, like this before. What I fear is that the language coming from the police department and the politicians. They're waging war on activism. After this shooting, it's a wartime police department. It sets a violent tone and now they're going to be going after people in a very aggressive way — and that's scary."
Josmar Trujillo, another protester and police violence activist, also worries about a law enforcement witch hunt in the wake of the shooting. He described it as a post-modern McCarthyism built on NYPD's conflation of legal protests and assembly with the slaying of the officers by a killer with no connection to any protest movement.
"We're all going to be looked at as insurgent now," he said. "We deplore violence. we've lost people to violence. Now I'm personally scared."
Trujillo added that the atmosphere of fear created by this assassination is going to lead to even more pressure on the communities he is fighting to help.
"Can you imagine what it's going to be like to be a young black man in Brooklyn right now?" he said. "He's going to be scrutinized even more so than he was before."
Residents of the Tompkins Houses are worried that their community will now be targeted even though the shooter came from out of state and picked the location for his murderous rampage at random. One mother, who identified herself by her nickname China, was walking with her son in the Tompkins Houses courtyards after a trip to the store. She said Saturday was the first time she ever let her special needs 14-year-old son Bubba leave the house by himself. He had gone to take out the garbage when the gunshots rang out.
"He doesn't know that life," she said. "He doesn't understand that kind of violence. He calls the boys out here who get into trouble the strays. Now, between the police and the strays what is he supposed to do?"
She said her heart goes out to the police officers' families, but added that she is frustrated that her home will now live in infamy as the place where this assassination happened.
"Unfortunately, I have to show him what's going on," she said. "He has to know what the reality is. He's not able to be himself. He can't be innocent anymore."
She said she and her husband are going to leave the Tompkins Houses as soon as they can.
Even as they mourned, the police were dealing with more threats. In Brownsville — a poor, mostly black, high-crime neighborhood in Brooklyn — a teenager turned himself in to police Sunday night after posting threats about police on Facebook. He had been questioned by police on Friday after officers responded to an unrelated call between the suspect and his brother where they mentioned guns. During the search of the house, he got into an argument with one of the officers about how the police had "murdered" Eric Garner.
As darkness fell Sunday evening, well-wishers held a candlelight vigil to commemorate the lives of officers Ramos and Liu. Hundreds of residents from the neighborhood and around the city gathered around the burgeoning, sprawling mound of tributes. A panel of wood painted blue leaned against the wall just a few feet from where the officers were gunned down. It had the words "Gone But Not Forgotten" on it next to a splotch of red in the shape of a bullet wound that ran down the middle. Someone taped an American flag to a steel door.
For a city that had been in the throes of tumultuous protests and intense demonstrations — many of them invoking the neighborhood where the vigil was being held — for some it was a refreshing mix of police officers and black and Latino residents meeting in public for a common purpose. Some of the mourners sang "We Shall Overcome," a song recently sung in protests against the police and now sung to honor them — a plea to end violence against the police.
A clutch of politicians stood in front of the massive memorial made up of bouquets and votive candles and stuffed animals. They repeated different versions of the same message — regardless of race or neighborhood this was a tragedy for all New Yorkers.
As they took turns reassuring the crowd that violence against the police was not going to be tolerated, a long line of police officers stretched from the sidewalk toward the intersection. Each had something for the memorial: a bouquet of bodega flowers wrapped in cellophane, a candle in a glass holder, flickering in a bitter wind.
As they waited their turn to kneel down and pay their respects to their fallen brothers, one of their radios chirped and crackled to life. The voice had an important message. It was for all "members of service," known in cop lingo as MOS,  working in any publicly marked police vehicle — a patrol car, a van, a scooter.
"Remain armed," the voice crackled. "Remain armed at all times."
After his speech, Heyward slipped into the church lobby, where he was told about the killing of officers Liu and Ramos. When he learned they had been shot by someone looking for vengeance, he became visibly shaken. He touched his face in shock and wobbled before collecting himself.
He has spent the years since his son was killed working to reform police overreach and abuse, he said.
"I've been out here pleading for two decades," Heyward said. "But my pleas have fallen on deaf ears."
The year before his son was killed, an officer had grabbed Nicholas Jr. as part of a sweep of arrests in the houses. They took him to the local precinct. Heyward said when he picked up his son, who wasn't charged, he was petrified. He coaxed an explanation out of his son.
"He told me that the officer told him if he didn't talk he was going to pull a gun up his butt and pull the trigger," he said.
Heyward filed a complaint with the Civilian Complaint Review Board. In 1999, five years after his son's death, he received a form letter from the board. It notified him that the police department had acted lawfully.
He stood wordlessly for a moment in the dull light of the lobby, gathering his thoughts.
"This is not going to bring any change," he said of the killing of officers Ramos and Liu. "It's a tragedy. It's sad that he took the lives of two innocent officers, two officers who probably never even hurt anybody. But some people are so stressed out, they feel so desperate. There's no help at the end of the tunnel."
As for the officers' parents, he offered them his condolences. He said he understands what they are going through.