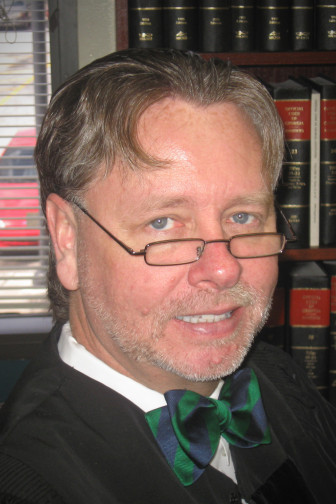 When did making adults mad become a crime?
I asked myself this question shortly after I started judging in juvenile court when confronted with a docket inundated with disruptive students referred from the schools. Most were misdemeanor incidents involving fights, disorderly conduct, disrupting school, graffiti and theft.
After placing police on campus, school arrests increased over 2,000 percent. Of these arrests, 92 percent were for misdemeanor offenses — the types of behaviors typical of adolescents whose brains are neurologically inclined to do riskier, stupid things despite their creative, intelligent and energetic proclivities.
The more we arrested and suspended, the worse our graduation rates became — plummeting to an all-time low of 58 percent in 2003. It was not a surprise that the fewer we graduated, the more juveniles were committing crimes.
As goes graduation, so goes crime.
"Increasing graduation rates will lead to less crime and safer communities," says the National Guard Youth Foundation, citing data that shows "67 percent of those incarcerated in state prisons failed to complete high school and 69 percent of local jail populations are made up of high school dropouts."
We thought we could improve school climate by using zero tolerance practices to remove the disruptive kids, but we overlooked the research — we didn't even study our own data.
For example, we found that a 1 percent improvement in school climate was found to increase student average attendance by 1.6 percent. Improve the climate by 10 percent and you get a 16 percent increase in student attendance.
And when we looked at our data, we found that those students who missed 15 days or more had a 30 percent graduation rate. What's worse: Many of those missed days were due to school arrests and suspensions.
In my world of juvenile justice, chasing the kids who make us mad only dilutes the effectiveness of safeguarding the community from the kids who scare us.
It was time to scuttle zero tolerance. It was time to do the counterintuitive — keeping kids in school, out of court.
I used the inherent convening authority of the judicial bench to bring together our community stakeholders to create the first school-justice partnership agreement in the nation — a partnership that has reduced school arrests by 83 percent, influenced the increase in graduation rates by more than 24 percent and reduced juvenile crime by 62 percent.
I have since learned that the convening power necessary to create a school-justice partnership protocol is not limited to judges, but embraces any leader who is knowledgeable about the problem and possesses the will to do something to resolve it.
What I initially believed could only be championed by judges, law enforcement and education leaders have since proven me wrong. Now there is a new person expanding our universe of school-justice leadership — New York City Mayor Bill de Blasio.
Mayor de Blasio knows that how go our kids, so go our adults. If we want better citizens and lower adult crime rates, we must be smart about how we treat our kids — they eventually become adults, after all!
To accomplish this, Mayor de Blasio created a task force called the Leadership Team on School Climate and Discipline. The team was to develop policy recommendations that will enhance the well-being and safety of students and staff in the city's public schools while minimizing the use of suspensions, arrests and summonses. This team has involved more than 150 stakeholders, including representatives from city agencies, community organizations and unions, as well as researchers, practitioners, educators, students and parents.
[Related: Juvenile Justice Can Be Reformed Without Invoking Old Prejudices]
In June 2014, my school superintendent and I met with key members of the mayor's leadership team via video conference to discuss the components of our school-justice partnership model and its application in the nation's largest school district.
This multidisciplinary team of experts created by the mayor is working hard to evaluate New York City school-justice data and research what works and what doesn't work. It is clear that New York City wants to increase public safety for tomorrow by creating a school-justice partnership that places children on the road to success — not kick them off.
I know — I was in the Big Apple in June along with my team of advisors to meet with members of the leadership team.
I learned that New York City schools went on an arrest and suspension binge between 2000 and 2010 that didn't produce the results intended. On the other hand, changes over the past two years that led to suspensions being reduced by 23 percent and arrests by 55 percent did not create the mayhem some naysayers had predicted. As the research predicted, crime in the schools declined by 24 percent across the same time period.
These statistics are promising, but the mayor knows the numbers can improve further if the team stays the course to develop a system unique to New York City that follows the school-justice algorithm of keeping kids in school and out of court. To that end, the mayor's team has become well versed in what works and why.
They know that arresting kids for low-level offenses will make them worse — an unintended consequence resulting from "Get Tough" policies like zero tolerance. For example, they know that a student arrested on campus is twice as likely to drop out of school and four times as likely if they appear in court.
The mayor's team is aware that arresting the kids who make us mad will increase the chances that they will become individuals who truly scare us — and that is not a smart system.
As part of this process, the team is looking into a proven approach I pioneered in 2003 — an integrative multisystem approach to replace arrests for certain misdemeanor offenses with responses that seek to modify the behavior.
We know from epidemiologists who study diseases that disruptive behaviors, like diseases, don't occur by chance and are not randomly distributed. This means disruptive behaviors, like diseases, have underlying determinants that can be treated and eliminated.
The mayor's team is working diligently to create a school-justice partnership that will identify the causes and treat them with methods best suited to reduce disruptive behaviors — and arresting and suspending don't address the underlying causes.
His team knows these outcomes can be replicated in New York because they've been replicated in many jurisdictions of all sizes across the nation. This approach has been cited as an "ideal solution" to eliminating zero tolerance in "A Handbook for Evidence-Based Juvenile Justice Systems."
I was disappointed by a recent editorial in the New York Post that employed incendiary words to paint a picture of this effort as "soft on crime" despite the studies showing the model's positive impact on graduation rates and correlating influence on decreasing crime.
Such inflammatory speech is the easy go-to for those wading in the shallow end of the pool of knowledge. They prefer to avoid the inconvenience of learning to swim in the deep end where the underlying truths reside because they're fearful of what they may learn.
These are the counterintuitive truths that scare a few, but they are truths that can save children's lives and make our cities safer.
Steven Teske is chief judge of the Juvenile Court of Clayton County, Georgia, and vice chairman of the Governor's Office For Children and Families. He is a past president of the Council of Juvenile Court Judges and has been appointed by the governor to the Children & Youth Coordinating Council, DJJ Judicial Advisory Council, Commission on Family Violence, and the Governor's Office for Children and Families.
More related articles:
Convicted on Drug Charges, Georgia Youth Faces Life After Rehab
New Initiative Will Help Raise the Bar for Serving Youth in Custody